Author Baskina Sofya Translated by Ilyushina Nataliya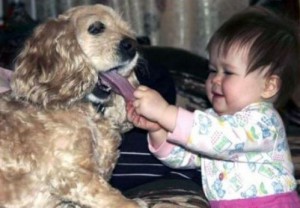 Statistics indicate that children get bitten by dogs more often than adults. Dogs' nobleness towards little children is a rather dangerous myth. In order to prevent incidents, you should prepare your dog for the appearance of a child in your life and train the dog to behave properly with children. There are several simple methods to achieve this.
Preparation:
• The best way to act is to keep dog's rug on the same place it was before the child's birth. Although if it is impossible, you should change the place preliminary, 2-3 months before the birth of your child. Ideally, dog's «spot» in the house, its feeding and walking schedule should not change after the child comes. The most common and critical mistake is to replace dog's rug by a baby cot.
• You should not leave the baby alone with the dog in the bed, if the dog has a habit to rest there. This can lead to traumas, because your dog can snuggle against the baby and hurt it without the cloven hoof. When you are not in the room, the baby should lie in the baby cot beyond dog's reach.
• You should acquaint your dog with the baby as soon as possible – show the baby to the dog, let the dog smell the leg of the baby or even lick it. Try not to be suspicious beyond measure – your dog should see that everything is okay and you are calm and confident in its behavior. Don't shout at the dog, if it jumps to your baby, or take it out of a room every second – consider your dog as the best friend for your growing child for the next 12-15 years.
• If your dog has all the necessary vaccinations and doesn't have helminthes, you can let it lie in your bed with the child, when you are near. There is a very small probability that your child will be allergic. Neither should you panic, if the dog takes baby's toys.
• You can give everything that wasn't eaten by the child to your dog – milk (including expressed breast milk), squashes, porridges etc. Your dog will response in begging and looking in children's hands, but also it will associate your child with something very good.
• Crawling child has very strong and clingy arms, and you should help your dog to escape when your child tries to seize it. A dog is also one of the favorite toys for a child that starts walking, that's why your dog should have a place where it can stay untouched and an opportunity to leave. If you see your dog with its head turned, growling at the child in front of it (even biting him without wounds or bruises), you should get it out of the room very calmly, but avoid beating it and closing doors. You can let your dog come back, because the aim of this exercise is to show the dog that it should just leave the child in such situation.
Usually there are no problems with beloved dog when the child appears, but sometimes problems do occur.
Problem solving
• Playfulness. A dog tries to play with the child as soon as it reaches him. Such dog has to know the word "Sit!" in order to be controlled.
• Lack of experience. Your dog has to understand that human skin is much more delicate than that of dogs. Your dog will understand it, if you played with it with your hands earlier. Otherwise you should do it now – use methods for habituation for unpleasant procedures. When your dog is relaxed under your touch, run your hand over its gums, teeth, and then praise and touch it again in comfort places. If it starts playing with you and biting your hands, don't beat it's face – that will provoke the game "bite-and-run", and this kind of game will be repeated later with your child. When the dog seizes your hand you should not pull it out, if the dog squeezes stronger – say "Hurts", pull the hand out and go away. This behavior is the strictest punishment for the dog that wants to play. Your aim is to educate your dog to be calm when you touch its mouth and not to start playing or biting.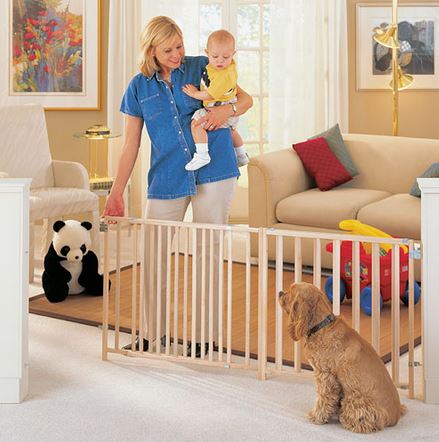 • Activity. Your golden retriever or bernese mountain dog doesn't care whether you have a baby in your arms or not, when jumping on you. In this case you also need the word "Sit!".
• Jealousy. Infantile and immature dogs can be jealous of your baby during the first days. This problem can be solved by a long walk on the first day with the baby at home, or by something tasty after the baby's dinner. But if the owner doesn't take actions to deal with jealousy, the dog will start to get up to mischief in order to receive some owner's attention.
• Hunting behavior. Some dogs with strong predatory drive can perceive a child of 2-3 years as a small human, but they think of a 5-month toddler as a cat or something like it. If you see your dog always looking closely at your child and being unusually strained, you should keep it in a collar and on a short leash unattached for at least two weeks. If something happens, this leash will help you to take your dog away from the child as soon as possible. Avoid leaving the dog and the baby alone in the room for at least several months.
• Impatience. Children at the age from 1 to 4 years can tire the dog or hurt it. If you know that your dog will not tolerate it or that it has experienced harsh treatment, avoid leaving it with a child alone until the age of 5, no matter how good you control it now.
• Food and toy aggression. If you know that your dog is prone to protect toys or bones, you should just put them away. When you give your dog something to chew, take it away in 20 minutes. Don't leave dog toys and food on the floor. Don't let your child touch the dog while it i having its meal. It is much easier to prevent problems than to solve them later –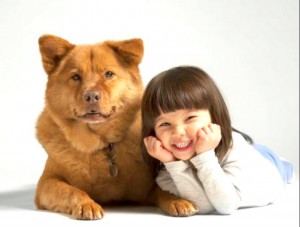 for example, punishment for toy protection will lead to strong association "child-punishment". The only exception is at the age of 3-4 years, when the child enjoys feeding the dog by giving it a dish. Such experience will improve their relationship – the dog will have good associations with the child, and the child will take care of the dog.